When you need care for your child, while you go to work, college, or both, you need to know they'll receive excellent care that helps them grow strong physically, mentally and emotionally. Amity Learning Center delivers just that kind of care.
Why Amity Is the Best Choice for Your Child
Why choose Amity over other day care providers?

Caring for Your Child All Day All Year
With the exception of a few holidays, Amity Learning Center is open every weekday before and after normal business hours. Children can arrive as early as 6:30am!

Care for Children Six Weeks and Up
Many day cares require that a child be 12 or 18 months old before they will be accepted. We offer care from the time your child is six weeks old until the age of 12.

Quality Education
We're more than just a day care. All of our teachers are dedicated and certified, and our program is certified by the National Association for the Education of Young Children (NAEYC). We only use proven education methods, such as Creative Curriculum and Teaching Strategies Gold. This curriculum is tailored to each developmental stage and promotes learning through play.

Field Trips
Our students get to take regular field trips to explore the outside world and learn by doing. Enrich your child with new experiences!

Nutritious Meals
Our food service staff cooks and serves three nutritious meals each day, as well as snacks.

Active Play
We know how important it is for children to be active, so we not only encourage active play, but we also make sure physical education is embedded in everyday activities.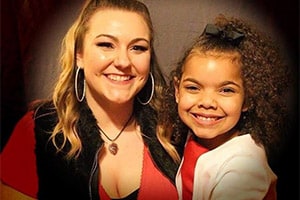 "My daughter went to Amity for a few years. I love the teachers; they're always very kind and when you come to get your child the teachers always tell how their day was, which I love. They also provide breakfast, lunch and a snack, and the food is nutritious. When the children eat they have to sit family style, which helps children learn proper table manners.
Everyone at Amity is very welcoming, always saying "Hi!" It makes it easier knowing you have people you can trust to watch your children! Amity is also very good at keeping parents informed, and getting the parents and the community to come together for after daycare/school events."
Jordan L.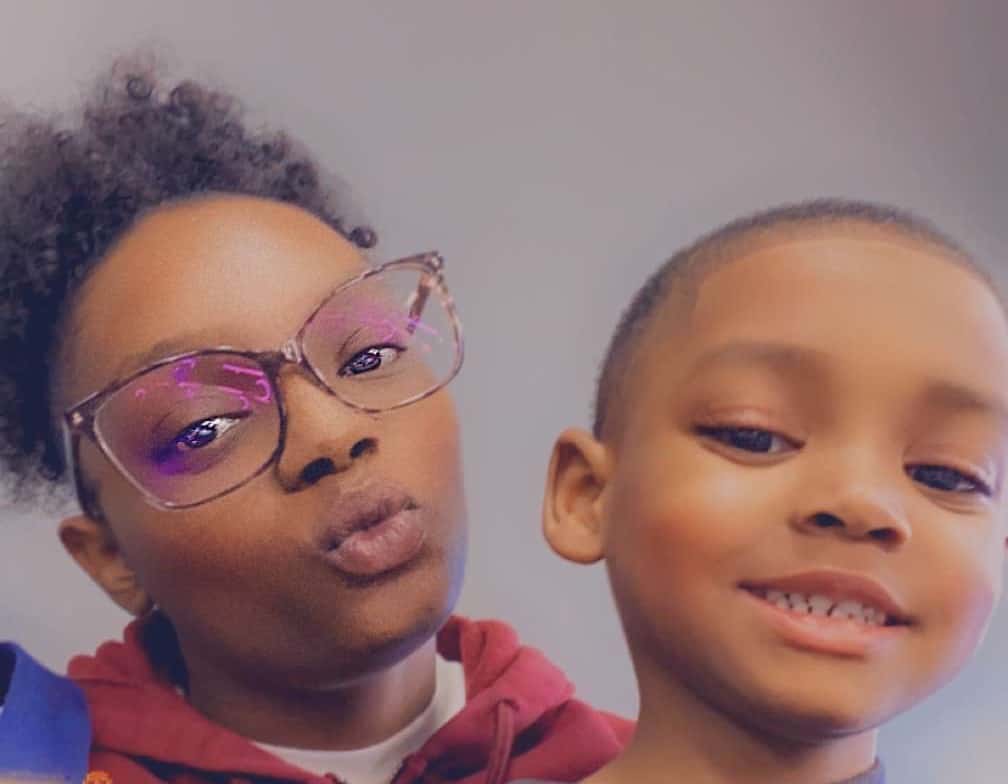 "I love Amity Daycare! They take care of my son like he is one of theirs. Whenever we are in need of anything I know I can call on them. Not only have they taken care of my son, I've also attended Amity and as far as I can remember they are the best teachers you could ask for. My son entered at the age of 2 and has made excellent progress. We love Amity and Amity loves us. "
JoLeigh J.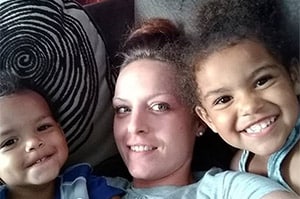 "Amity is like a second home to my children. I'm a single mother with two jobs so my kids are there from 9-5, five days a week. Amity has been there for my kids and I for almost five years now.
I have always felt comfortable coming to the teachers or office staff with any concerns considering my children, and they were always addressed in a professional manner. Not only do they follow state and DCFS regulations to a T, they educate the kids well and perform assessments to help them become school ready. Amity has a family night once a month, a yearly trip for the families, in the summer they take kids to the movies and the pool, and much more. They are also very involved in our community. They have food drives quite often. They're great at keeping families updated and reminding them on everything going on at the day care. Amity and their staff has always made my children and I feel welcome and safe.
My daughter started Head Start this year, which is in the same building. Some of the Amity staff went to my daughter's class at times to help keep her focused and behave. They are not obligated to do so, yet they do it because they care about the children while in day care, but beyond as well. I couldn't have been blessed with better people to care for my children!"
Kristin S.
Getting Started
Becoming part of the Amity Family is a simple process.
Connector.

Connect With Us

Fill out the form below to get started, or call us.

Connector.

Fill out an Application Packet

We'll provide you with some forms, so we can get the right information to bring your child into the program and help you with costs.

Connector.

Meet Your Teachers

After that, we'll arrange a tour of the facility, and you'll meet the teachers for your child's age group.

Connector.

Become Part of the Amity Family

When we've taken care of all the details together, your child will be able to come to Amity for care on a daily basis, and receive the education, exercise and nutrition they need to grow into happy adults.
Care and Education Programs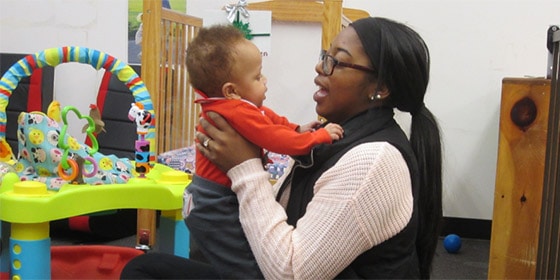 Infant Education (6 Weeks to 15 Months)
Teachers talk, read, and sing to infants and engage them in play. All activities are designed to ensure social-emotional development, as well as to build problem solving and self-help skills.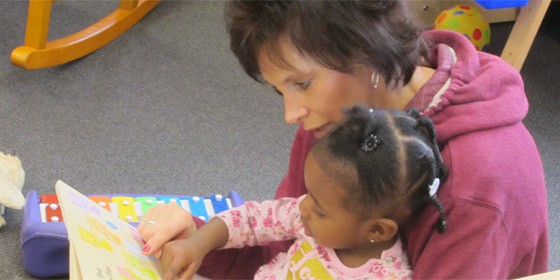 Toddler Education (15 Months to 2 Years)
Daily activities in this program promote language development, problem solving, motor skills, social interaction, and self help skills. For instance, this class introduces potty training.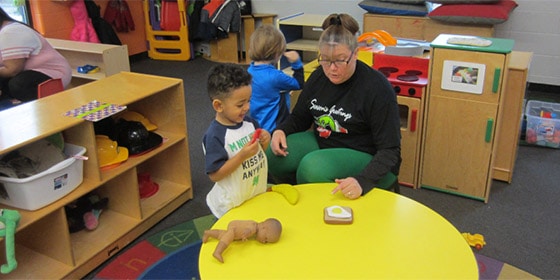 Early Pre-school (2 to 3 Years)
In these classrooms, teachers begin encouraging independence, while offering science, math, art, and language development activities. Students also hone social and potty training skills.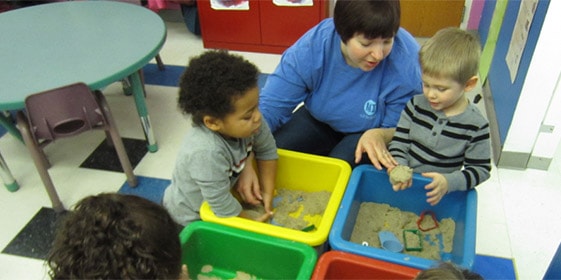 ROE Pre-school (3 to 5 years)
For this age group, our teachers promote math, early literacy, writing, art, science, social studies, technology, and social skills through play-based learning. Teachers design activities to meet the needs and interests of all children.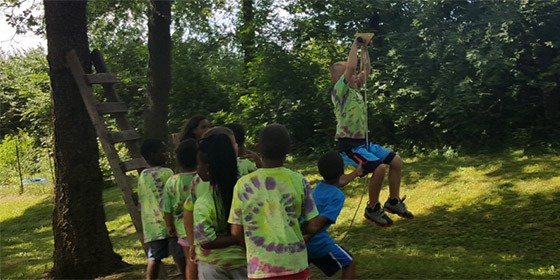 School Age Program (5 to 12 Years)
Students complete homework, play games, use computers, and enjoy arts and crafts. Our summer program focuses on developing reading, writing, and social skills. With this age group, we use the 2nd Step violence prevention curriculum.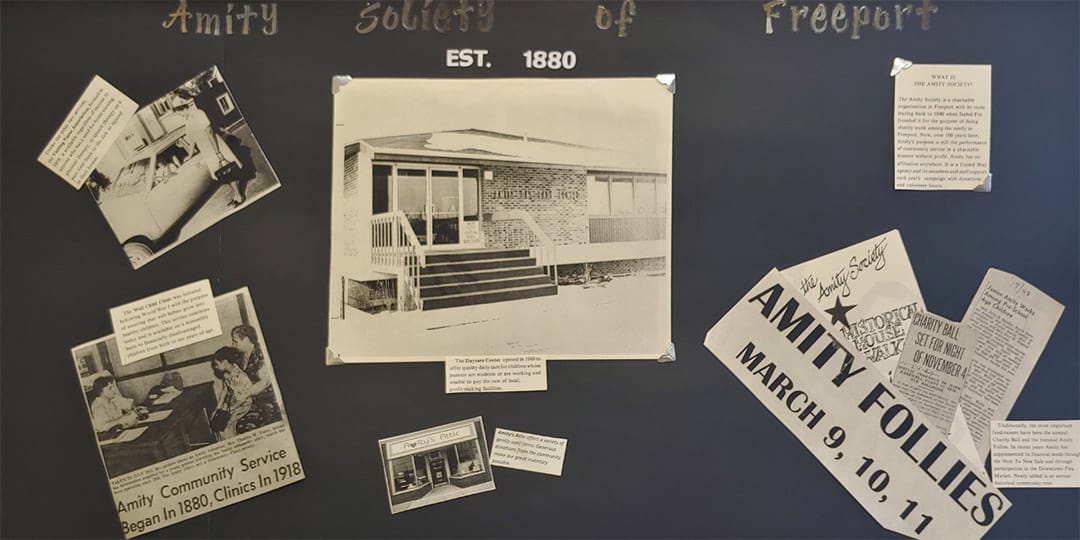 The Amity Society—Serving Families for over 130 Years
Amity Learning Center is part of the Amity Society of Freeport, which is not only the oldest charity in Freeport, but is one of the oldest children's charities in America.
Founded by Isabel Fry and Dr. H.D. Jenkins in 1880, the Society began as a mission to provide needed assistance to the poorest local families, giving them Christmas gifts, food baskets, and hosting an annual Christmas dinner for the needy, along with much more.
Over time, the Amity Society expanded, and by the 1920's the Society had established an Infant Welfare Station, Orthopedic Clinic, Well Child Clinic, and Visiting Nurses Association. The mission focus was always helping those who needed it the most, and doing so on a local, person-to-person level.
In the 1960's, the Amity Learning Center was launched along with Freeport's original Head Start program, an educational mission that continues to adapt and grow to this day.
Choosing Quality Child Care—A Free Resource for Parents
Nothing's more important to you than your children's wellbeing, but choosing the right care setting can be difficult. This downloadable checklist will give you insight into the questions to ask and the features to look for in a day care or afterschool program. It's our free gift to you!